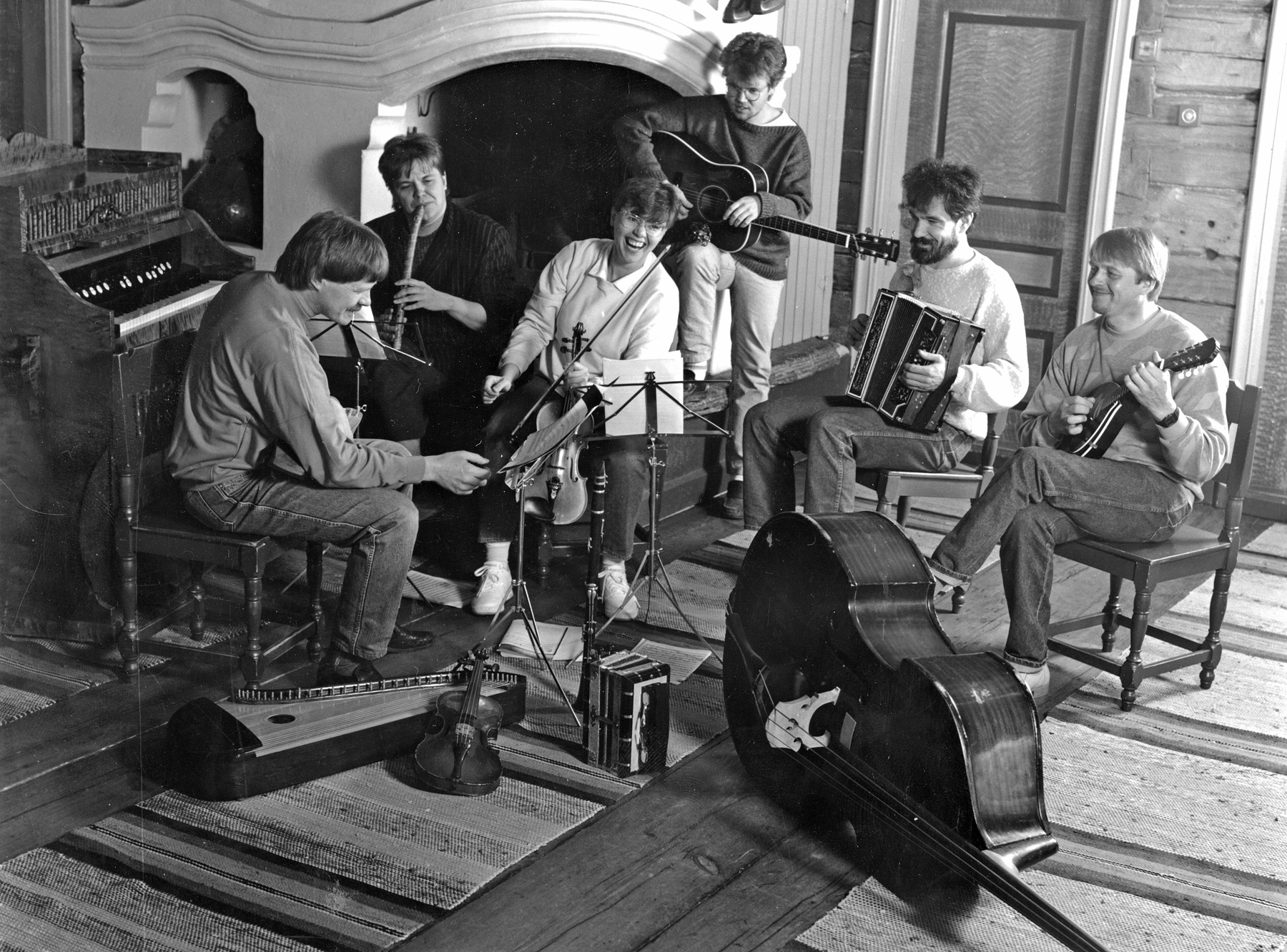 History
Tallari was founded in 1986 as part of a long wave of revival of Finnish folk music and Kaustinen's rise as the centre of Finnish folk music.
In the 1960s, a truck driver and folk musician from Kaustinen, Konsta Jylhä, made Finns dizzy with his heartfelt compositions and the band Purppuripelimannit. The popularity of Purppuripelimannit raised Kaustinen's strong fiddling tradition to the awareness of the entire nation. So in 1968, the crowd rushed to the first Kaustinen Folk Music Festival. The celebration became an annual pilgrimage site for folk music people across the country, and at the same time launched a huge nationwide folk music hobby boom.
In the following years, Finnish folk music was strengthened by creating for example training, research and organizational activities. One key goal was to have a publicly funded professional folk music band in the country, as folk music was virtually entirely dependent on hobby activities.
The professional orchestra was founded in 1986. Tallari's task was defined as "preserving and promoting Finnish folk music and making its various genres known both in Finland and abroad through concert and performance activities as well as educational and research activities". Naturally, Kaustinen became the group's home, where, in addition to the Kaustinen Folk Music Festival, the Folk Music Institute was founded in 1974.
Antti Hosioja, Risto Hotakainen, Ritva Talvitie, Timo Valo, Arto Järvelä and Hannu Lehtoranta were elected to the group's first line-up in 1986, with Anna-Kaisa Liedes and Leena Joutsenlahti as permanent assistants. Hosioja, Hotakainen, Talvitie and Valo formed the group's long-term core group. The group's generational change took place gradually as they retired, most recently with Ritva Talvitie's retirement in 2019. Thus, the baton of Tallari's recognizable style that has formed over the decades has passed on to a new generation in a controlled manner.
Tallari has released almost twenty albums or other publications, toured in several countries and continents, performed thousands of times to a wide variety of audiences and taught a large number of Finnish folk music professionals. The group has performed and made various productions over the years with folk music professionals, amateur groups and bright soloists in other music styles.